Remember back in October, when I announced
I was going to start
a new little series on social, environmental and political issues? And then, didn't. Well, now that I'm back online, I'm going to try to resume the practice and each Friday inundate you with discussion about some of the less frivolous things in life.
Like I originally stated, posts in this series could take the form of reviews of books or documentaries, or a discussion of current topics, or more personal pieces closer to the heart(h) and home.
This piece will be the first kind, a review of a provocative, moving piece of cinema.
So, if you only see one upsetting documentary this year, see Marschall Curry and Sam Cullman's
If A Tree Falls-a story of the Earth Liberation Front
. Take this from a girl who watched tens of upsetting documentaries last year. Many of them were touching, frightening, enraging. Some alerted me to issues I had never thought of, others changed my point of view on things I thought I had a solid grasp on. Some gave me hope, others made me despair. But only one shook me to my core.
The film follows the story of Daniel McGowan, a social and environmental activist, as he is preparing to go on trial for participating in a number of arsons as a member of the Earth Liberation Front. Though the film is first and foremost the story of one person (hence
A Story of The Earth Liberation Front
), through him the filmmakers raise questions about the boundaries of freedom, abuse of power, individual rights and responsibilities.
They also use his experience to illustrate a piece of the recent history of the environmental movement, as well as the rise of radical activism in the 1990s.
The funny thing is, at first I had a hard time figuring out why I was so shaken by this film. I have, after all, been peripherally aware ELF and the American logging struggle my whole adult life. In 1995, at the time of the battle of Warner Creek, mentioned in the film happened, I was a sixteen-year-old going to protests against Micky D's, collecting signatures against animal testing and participating in workshops leading up to the coming Kyoto Convention On Climate Change.
Along with pretty much everyone in the country, I watched in astonishment as three teenage girls(at least two, Mia Salli and Minna Salonen, were 19 at the time) were convicted for letting loose hundreds of minks from a fur farm. Unlike a lot of people I remember being astonished, not by the fact that anyone would do this, but the fact that someone this young, would have the courage to stand up for their convictions and suffer the consequences.
I became as avid a follower of radical environmental and animal rights action as one could in those pre-internet days.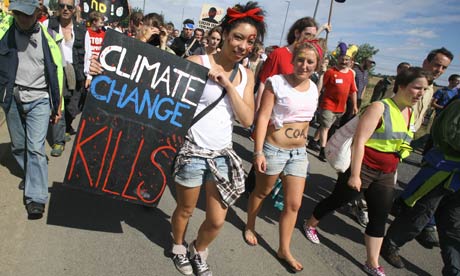 As the decade ended environmental and animal rights activists seemed to be ramping up their actions, but not to the degree that the law enforcement and media seemed to think.
For the few years before 9/11 there was fully an effort to try to frame Animal and Environmental activists as a national and international terror threat. Does anyone else remember sensational articles about para-military ELFs fire-bombing the homes and businesses of decent, ordinary citizens?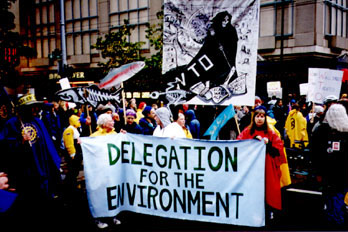 It seemed that for a while every broken window of a fur shop and every logging truck with sugar in the gas tank, became another chapter in the battle "environmental terrorists" were waging against organized society.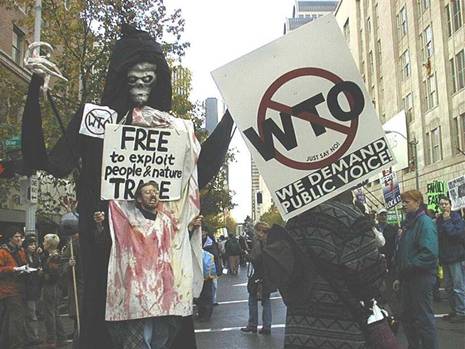 Little discussion was had, at least in the mainstream media, about the motivations of these activists and whether their deeds of property destruction could be understood from a moral stand point.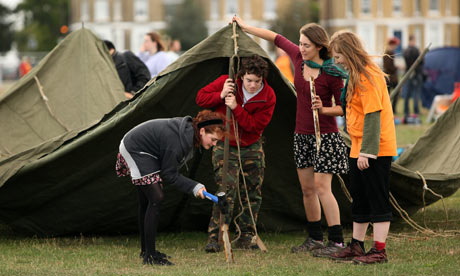 I was in my early 20s then, and more than sympathetic to radical activism, participating in mass protests against the WTO, the War in Iraq, the Mayday Marches in London that sometimes drew out three times as many police officers than protesters. The first time I came to the US was five months after the Battle of Seattle a hundred miles South of here and I was inundated with tales from the trenches and how wrong the media had got it and how forceful the police had been.
"
I had never seen with my own eyes what kind of a world we live in. I was in perpetual mourning and have been ever since they took the blinders of my eyes.
"- Daniel McGowan on his environmental awakening.
Like Daniel McGowan, I have been mourning for the world we live in for a long time and
I believed deeply then, as I still do, that it is our moral duty to live by our convictions and fight against injustices when we see them in front of us. In a lot of ways it is very easy for me to understand the disillusionment with the democratic process and peaceful protesting that in part led the members of ELF to commit the radical actions this movie deals with.
So what is shocking about this film to me, then is not any one element of it: not the violent arsons Daniel and his comrades staged, not the misguided use of force by the police, not the horrifying environmental destruction that the film is illustrated with.
It is the clear and beautiful display of the institutional violence that emerges from these pieces, the silencing of the conversations activists everywhere want to have.
It is the fact that for the mere acts of "politically motivated" property damage, labeled as domestic terrorism by the government, Daniel McGowan and his co-defendants faced life in prison.
Or that McGowan's crimes qualified him for a "terrorism enhancement", which would have him locked up in a facility where he would have only minimal contact with the outside world (one 15 minute phone call a month, one two hour visit with one family member, one three-page letter a month). This in spite the fact that by
the time of his arrest he had not been actively a member of the ELF for almost five years and was only caught because of an elaborate sting operation by the FBI and he is unlikely to be running some sort of underground terrorist operation from prison.
It seems that this can only be interpreted as retaliation on the part of the government for his engaging in these politically motivated actions.
Did Daniel McGowan and his co-conspirators engage in dangerous acts of property destruction, causing millions of dollars worth of damage? Yes. So maybe they should deal with the consequences of their actions? As McGowan himself points out that this is probably a lot of people's first reaction, and perhaps rightfully so.
But the thing that keeps me up at night (and has made me watch this movie six more times since I first saw it) is that this is not the first time when some fearless folks have committed property crimes on moral grounds, simply because the people profiting from this property were doing something wrong.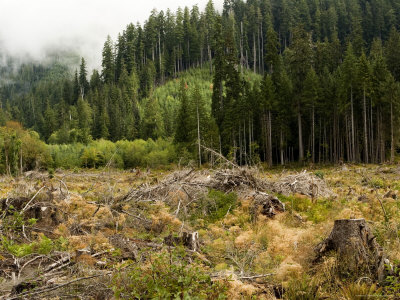 These days we hail those outlaws as heroes. The heroes of the Underground Railroad who smuggled other people's perfectly legal property out of the South at the risk of their own lives. The heroes that time and time again disrespected private and corporate property and the right of some people to make a profit at the expense of others. Heroes of the Labor Movement, of the Civil Rights Movement, and perhaps, in the hindsight of history, folks who Occupied Wall Street and got arrested in front of the White House to stop the Keystone XL Pipeline.
There are people like them behind every social change, for as this movie points out for every change there is a push, because governments and corporations have not yet thus fur done the right thing just because it's the right thing to do.
"Forgive me thou bleeding piece of earth that I am meek and gentle with these butchers."-William Shakespeare, Julius Ceasar
Am I comparing trees to human people? No (though I could. I'm a dippy hippie, remember?). Am I saying that the companies that log national forests with the aid of the US Forest Service are comparable to slave holders? No. I'm not qualified to make those comparisons.
What I actually think about late at night is what I would have done had I lived in that place at that time? See, we all like to think of ourselves as moral, decent human beings. We want to believe that when faced with unbearable injustice we would do something about it. That if we lived in the US during the time of slavery, or in Germany during the rise of the Third Reich, we would have helped or at least been vehemently and vocally against those immoral abuses of power. Right?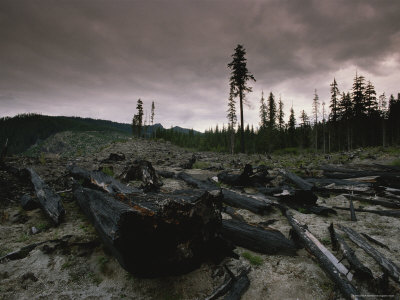 But the truth on the matter is most people at that time did and said nothing. A lot of perfectly nice, ordinary folks did not question the powers that be as their actions became more and more sinister and if they did it was behind closed doors among like minded folk. Most people did nothing. The ones that did were very radical (Remember "freedom or death"?) and often viewed with distaste and distrust by even those who agreed with their moral standing.
In this light I can't help but wonder if the future generations will look at this society at this moment and ask how the majority of us could stand by idly as these entities with the aid of our governments were wrecking the earth. I wonder if they'll know the names of
Daniel McGowan
, or
Tim DeChristopher
, or
Bill McKibben
and ask why the rest of us stood by in silence while these people took action, however misguided it might have seemed at the time, to protect all that is precious on this earth?
"The industry tends to call the environmentalists "radical". The reality is the 95% of the standing native forests in the United States have been cut down. It's not radical to try and save the last 5%-what is radical is to log 95%.
"-Bill Burton, Native Forest Council.
But don't take his word for it, or mine. Watch If A Tree Falls.
*edit: I just want to make it clear that I fully understand that there is fairly clear division between peaceful protest, civil disobedience, direct action and outright criminal activity and am in no way endorsing the latter. The purpose of this post is simply to discuss these actions in a wider context.