Whenever I get a little homesick for Helsinki I like to riffle trough the archives of
hel-looks.com
, in search of that certain elusive quality that visually defines the city for me. This does not happen often and I wouldn't ever really want to live there again, but sometimes I get swamped with nostalgia for my life there.
Every country, even in our globalized world, has its' own national dressing quirks and though awful hoove-shoes and shapeless black capes are all the rage from capital to capital, some the hippest trendsetters in my native land look quite different from those pounding the pavement in New York, London, or Shanghai.
I miss the folky colors of Scandinavia, as well as the simple, printed Marimekko-cottons, the innovative combinations and the joy that seems to radiate from people's styles.
Far from pretentious, Finnish girls often dress with a beautiful practicality, just as ready to go mushrooming in the woods circling any Finnish city, than out for drinks in a trendy bar.
Anyway, here's a parade of perennial Hel-looks favorites, for your entertainment and education on that little city by the sea and its inhabitants. In chronological order, of course.
Everything about Netta's outfit is perfect. And timeless.
Back in 2005 Sonja was the epitome of all things chic. "Boho" skirt, ballerinas and big shades, oh my! (I would still wear this minus the blazer.)
Aleksandra on the other hand, is dressed in the emblems of new Finnish design (new of 2005), wearing, not one but two ivanahelsinki items. But what is with the blazers?!?
This girl, Cecilia, is one of my all-time favorites there. I would wear all of this every day. Even the pleated skirt.
This girl's name is Milla too! And she's wearing a Russian scarf, the most commonly used neckwarmer among young Finnish ladies.
I'm not one for formal wear, but if the occasion ever rose, I'd like to wear this dress, home-made by Mai.
I've shown you these guys before, but man I just love love love Tanja's whole ensemble.
The boots, the giant old Marimekko-bag, the kind my auntie used to lug to-and-fro from the summerhouse, the giant scarf, the dork-y glasses, Raisa is just so scandahuvian somehow!
14-year old Veera has a dirndl, dress, Russian scarf and earmuffs! I want to be her.
Marimekko dress, understated and amazing on Anna.
Do all Finnish ladies have amazing Marimekko dresses, you ask? Well, not I, but Renata sure does...
Siru's handmade dress is crazy and awesome. Not that I would wear anything like it, but still crazy and awesome, two very Scandahuvian qualities.
Is it a shirt? Is it a dress? Only Mia truly knows, but it is all very Scandinavian minimalist...
Ama couldn't look more Finnish if she tried.
One of the best things about Nordic dressers is their layers and winter-wear. Vanamo also has a beautiful name, after a little pink, bell-shaped flower.
Aino not only shares her name with a tragic heroine of our national epic, she's mixing all kinds of ethnic elements together in a glorious blend.
Laura's second-hand florals kinda blow your mind. I think that's the point.
Roosa's dashiki party gets my vote! Red-heads in dashiki, oh my...
Jemina is inspired by Mori-girls and just took a year-long shopping brake. Our kind of girl.
I think I went to high school with Essi. You'd think one could remember things like that for sure. Had she been wearing this coat then, I would have...
And Susanna has the same exact Russian scarf I do! What are the odds? Pretty good actually...
Sarah kind of reminds me of our own sweet Sara, don't you think?
Heidi's idol is Pippi Longstocking.
Siiri, on the other hand, looks like a grown-up version of the Finnish Moomin character, little My.
Melinda has the appearance of a nature-worshiping Northern tribes girl. Extra points for the duct-taped sneaks.
Sara brings a different sensibility to Finnish Style, a much needed multi-cultural touch in a very homogeneous country.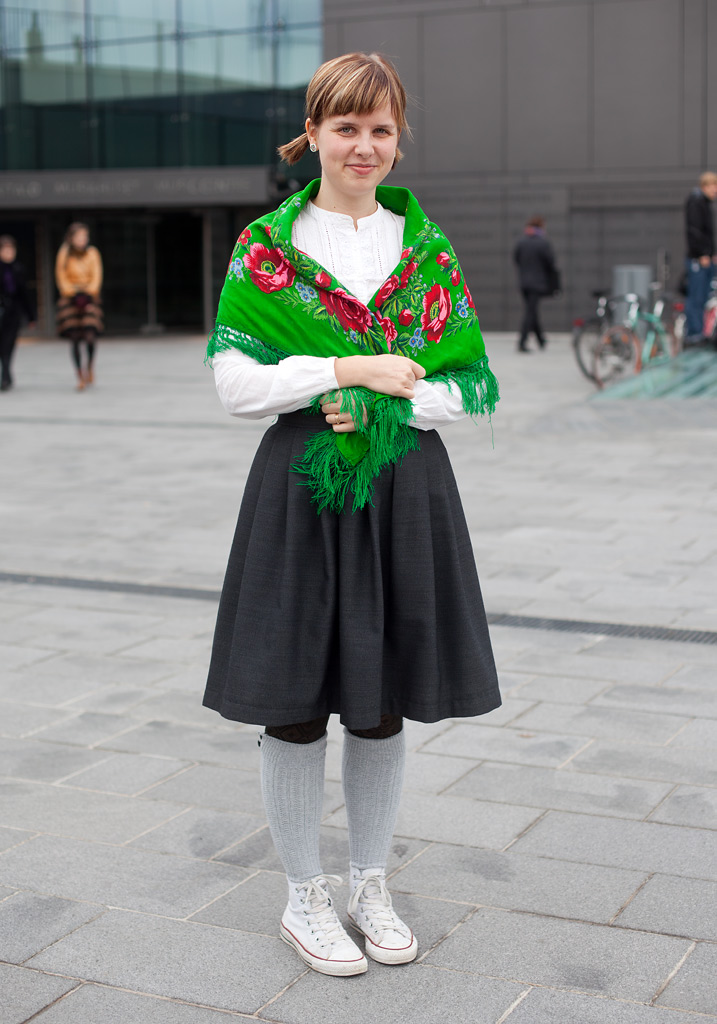 Emmi puts her own twist on folklore.
And Karin rocks a granny style like nobody's business.
Mixing country with city is so quintessentially Scandinavian and Anna makes it look pretty effortless. Switch those flats to rubber boots and she's ready to hunt chanterelles in the suburban woods of Helsinki.
Hey! Who's that awkward dorkward? My Hel-looks moment is not among my proudest, but what the heck, anything for a national institution.
What's your opinion on national style? Are hipsters any different from country to country?
(I'm having a hard time loading up photos on this computer, so sorry about the lack of more personal posts. Help is on the way. Also do not be alarmed by sudden internet disappearances by YT, we're temporarily moving out of our moldy house, washing everything we own and placing it in storage. Good times.)
And just two more days till the
giveaway
closes!