The rest of the oft omitted lyrics to Woody Guthrie's "This Land Is Your Land" go something (as with most folk songs, there are a number of versions) like this:
As they stood there hungry, I stood there asking
Is this land made for you and me?
Guthrie wrote the lyrics of "This Land" as a response to Irving Berlin's "God Bless America" which he saw as too sugar-coated and indifferent to the actual American reality of most. By the time the song gained popularity among 60s folk singers and even the general public, the last two verses had been omitted from popular memory, yet they, and not the manifest-destiny echoing first verses, truly capture the spirit of a very American dilemma; how to be patriotic, when your country is a mere shadow of what it claims to stand for?
One of the biggest problems I, and many Europeans have with America, is how complacent its population by-and-large seems. In a country with a written, accepted mainstream history so short and full of upheaval, one might think that Americans would be a nation ready to embrace protest in the manner of say the French (the government does anything but anything and the whole country shuts down ;); as well as being well aware of its riotous past.
After all, some of the greatest moments of this nation, the ones its kids proudly read in their history books, were acts of protest, civil disobedience, or even plainly against the rule of law. The Boston Tea Party? The Underground Railroad? Property damage and theft. Vote for women? A series of peaceful protests and acts of civil disobedience. The abolishment of child labor, the creation of the 40 hour work-week and the weekend ("Socialists-the folks who brought you the weekend";), as well as many other worker's rights? Civil disobedience and "unpatriotic" revolutionary activity (A hundred years ago the Seattle shipwrights union sparked the first and only successful general strike in America over an industry attempt to divide the union by offering skilled labour a raise, while stagnating the wages of unskilled labour. This capitalist technic failed miserable when all the union members walked out, then called all of their comrades in the IWW to join them. During this time the unions basically ran the city-feeding its people, policing the streets and organizing infrastructure). The civil rights movement? Women's liberation? Peaceful protest, civil disobedience, outright revolutionary activities.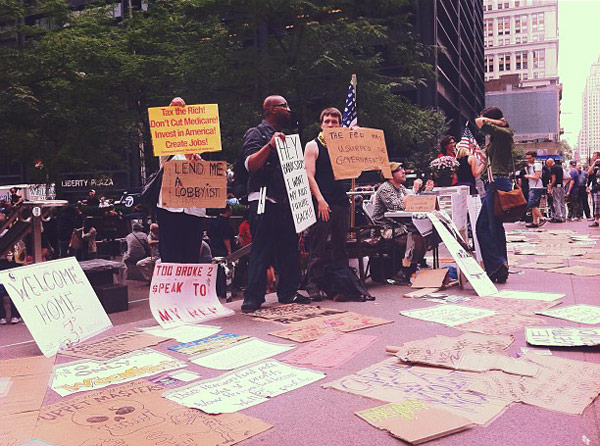 Perhaps, one could speculate, the American individualist is not as likely to join a mass movement as the more communally connected Europeans. The self-sufficient homesteaders and self-contained suburbanites they begat, often seem more concerned with the well-being of "me-and-mine", than the well-being of the Nation, its collective values.
And, of course, the powers-that-be play into this wide spread disinterest in rebellion. Even as other Western nations have come to view peaceful protest as a fundamental right of the people, as well as a way to keep the public discourse diverse, America has never truly embraced its citizen's right to protests. Especially if those who protest happen to have leftist agenda, or a radically different view of the direction the country should be taking. The American establishment's antagonistic policies towards protesters hark back to a much earlier and less enlightened era.
In the face of the institutional brutality that so often makes an appearance in an American protest rally, it seems no wonder the American people don't take to the streets more often.
Nowhere else in the "first world" have I ever felt such a oppressive police presence than in the land of the free and I can't say that I don't sympathize with its people's fear of standing up to "the man". Being a recent immigrant, I certainly feel vulnerable at the thought of being arrested at a protest. Or heck, even writing about this.
However an ideal nation represents what's best and bravest of its people. Their resilience, their moral and physical courage, their willingness to admit their short comings. These are also traits I believe each individual person should try to embody in their actions.
Which is why I'm writing this post. Because finally, in this year of turmoil in the Middle East and Greece and other old European nations, it seems America is waking from its slumber. Instead of investing our hopes in one man battling the corporate establishment for us, it seems we are realizing our own powers.
Thousands of ordinary folk from all over the country joining in a peaceful protest, speaking for themselves and those who cannot speak for themselves in a powerful voice, demanding that justice and common sense prevail, while organizing their own, utopian society (with a very nice library, mind!) in a city park, to me represents what is truly great about this nation.
This is the America I believe in and want to belong to. And though I can't be there in person, there are other ways to participate. I'm hoping to check out the scene at
Occupy Seattle
, or the protest in Bellingham, soon, and in the meantime will be sending care packages to both Occupy Seattle and Occupy Wall Street.
The folks on Wall Street say they're currently running low on food and will take canned and dry goods of any kind. They also need scarves, blankets, hats and mittens and all kinds of items to warm the growing number of bodies. I think some organic soap, toothpaste and hand-sanitizer might be nice too, as well as something for the library. Perhaps a little Kerouac, some Jack London and a that extra copy of Civil Disobedience that's been kicking around.
It's the least I can do in exchange for some social change.
(Perhaps this is why we've been honing those care package sending skills. A few none-protest-related just took off today ;)
This is a year of turmoil and all these different protests, to me, represent a positive force, something to believe in, a gathering of kindred spirits.
What do you think about the rise of the new American protest movement? Got stories from the trenches or past glories? What would you be willing to fight or sleep out in the cold for?

For more info:
And Happy Anti-Columbus Day, too!
Yours in dissent,
Milla