Or maybe something like "I will wish, whisk and whack/ you health and happiness/for this new season/ for you the branch/ for me the prize." in a coarse translation.
I was planning on a first post on simple living today, but instead I want to bring you a beautiful folk-custom of my native land.
On Palm Sunday, on the snowy streets of Finnish towns, one may run into packs of lovely little witches like these. They are engaging in the ancient custom of Virpominen, one of the many the onslaught of Christianity in the medieval times was never quite able to assimilate or eradicate.
Similar to the American Halloween-tradition, Virpominen involves kids going from door to door in costume looking for treats, but unlike Halloween, the dress code is pretty uniform and the kids actually have something to barter.
In the days preceding Palm Sunday, most kindergarten, pre-schools and 1st through 12th grade classes collect budding Pussy Willow branches to craft these fancy feathered wands, called virpovitsa. The kids make more at home (the greedier you are for chocolate the more you'll want to make), adorning them with paper flowers, ribbons, feathers (in the egg-related Oestre tradition of fertility for the new growth season) and perhaps even a painted or gold-papered eggs.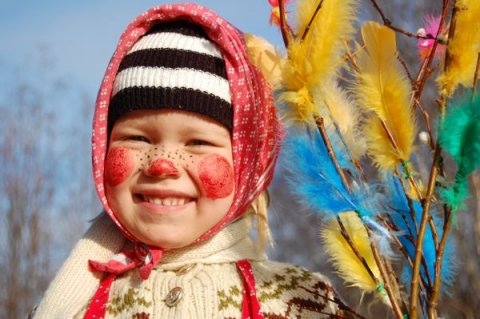 On Sunday morning they rise early to dress in their witch finery: longs skirts over winter pants, aprons, head-scarves and Russian shawls. Their mothers paint red apples on their cheeks and freckles over their noses. They are not impersonating pointy-hatted crones (except that one girl, clearly an American import ;), but fertile young witch-maids, robust and carrying blessings.
When they're all dressed up they gather their baskets and head out to the neighborhood. They travel in packs and it is considered to be bad luck not to have a treat to offer to each them (Money works too, but apples are bad form. Hear that, old ladies?).
They appear at your door chanting the above translated blessing, patting you gently with the branch which you will receive in exchange for the chocolate eggs and bunnies. It's just a joyful sight to open the door to little girls(mostly) beaming up at you, clutching their colored branches.
If I ever have kids, I heartily hope to bring this charming tradition into their lives. It is a fertility rite in honor of spring, sowing seed, letting cattle out to pasture, and in a 96 % Lutheran nation, a bit of nature magic that's survived through the ages. Heck, there are even bonfires involved in the traditional Finnish Easter. And a very
disturbing dessert
.
So Happy Easter To You And Yours! How does your family celebrate this holiday?
Health happiness and a multitude of blessings on your house this new planting season, or "Virvon, varvon/tuoreeks, terveeks, tulevaks vuodeks/sulle vitsa/ mulle palkka",
Milla