A while back C. and I watched seminal 70s movie
Norma Rae
. (Which hubby sold me on with the following statement: "You'll love it, it's about some crazy chick with clogs who talks union." (Full disclosure: I have a mad soft-spot for union movies).) While the film had not aged very well, it was a very interesting time capsule in terms of attitudes, styles and working class lives.
Okay who am I kidding? It was a pretty bad union-movie, BUT had a fenomenal wardrobe. Especially when it comes to a cute, soft, stripe-y 70s T-shirt, which was pretty much the title character's uniform.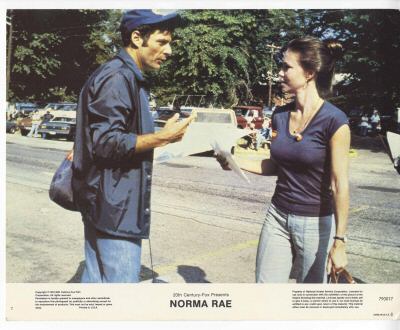 Makes me kick myself for the few 70s T-s I left behind in Finland. Darn. Cotton garments were pretty ubiquitous there back in the day, mostly thanks to
Marimekko
. Too bad America went ahead and sold all those garment factories and Norma's job to China. We could be rolling in soft cotton, right now, ya'll. (And don't talk to me about
American Aberration
.)
I shall keep on searching for my dream T-but in the mean time you guys should check out Anne's
perfect 70s T-ensamble
. Norma would approve.