I'm writing my final paper on women's authorship in films, and to my great dismay have found that even in film circles many people aren't aware of the amazing female filmmakers of yore. Since many a great style blogger has posted about silent film starlets, I thought I'd show you the talented, intelligent and equally stylish ladies behind the camera.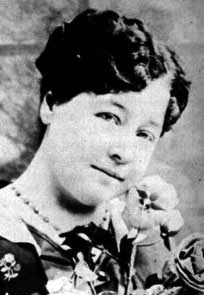 Alice Guy Blaché who was arguably the writer, director, cinematographer and set and costume designer of the world's first ever fiction film. Mainstream film history, when it's not ignoring her entirely, will state her second to Melies' first, but even if that was true, I think she deserves recognition and reinstatement in the canon, especially since, unlike Melies, she had to hold down a secretary's job while doing her movie. (Her boss, Mr. Gaumont, told her she could mess around with the cameras if it didn't affect her day job.)
Jeanie MacPherson, actress, writer, director. In the teens she worked in collaboration with none other than Cecil b. DeMille. As film historians would have it his name has the kind of instant recognition hers does not.
Lois Weber, who among woman filmmakers is my hero and role model. Not only was she one of America's first true auteurs, but the themes of her work were often those of social injustice, feminism, and the battle against hypocrisy in politics, the church and society.
Frances Marion became in 1930 the first woman ever to win an Academy Award for the best adapted screenplay. She's credited with writing and producing over 130 films.
Anita Loos came into the scene a little later than most, but she also stayed on a lot longer, perhaps, sadly, because she never clamored for that man's job known as directing. (She, by the by, wrote the original version of The Women, which was remade this year. The original was quite the blockbuster of it's time.)
This of course is only the tip of the iceberg. And sadly, more often than not mainstream
history's forgetfulness when it comes to talented ladies, is not a thing of the past. Today's female filmmakers are often ignored by the media, the industry bosses and awards juries.
(Hands up if you know how many times a woman has been nominated for a best director Oscar.)
So if your interested got piqued by these here ladies, do check out such contemporary geniuses as Kelly Reichadt,
and Julie Taymor.
For example. Do go see a movie directed by a woman. Go see them in the theatre, go see them the first weekend they open. If you like them, tell a friend, your auntie, tell your dentist. Remember that it might be your story that's left untold, when women filmmakers aren't allowed a voice in the business.
Rant over. Correct answer is 3 (Sofia Coppola, Jane Campion and Lina Wartmuller. None of them have won.)